Unique Golf Gifts
Fundraiser? Unique Golf Gifts, Ornaments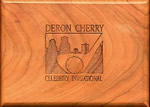 Because the items available from Creative Laser Solutions are less expensive per item the more you order, many customers have used our items for unique fundraising . Unlike pre-made items, these unique golf gifts and other items are reliably well made and custom engraved (or your money back!)
Browse our School, Corporate, Military and other pages and see the fine items you can proudly offer for your next fundraiser. If you are in charge of your school's next fundraiser and are investigating some new options, consider elegant beveled glass ornaments, engraved to mark an anniversary or other event held close in the hearts of your community. Parents, teachers and relatives will be pleased with these items (see our Testimonials page for evidence!)
In charge of the next nonprofit-fundraiser golf tournament for your company? See the unique golf gifts here. Whether boxes, tags or picture frames, these are all finely made items, personalized to your precise specs, and available at remarkable discounts for large orders: ideal for promoting a positive impression of your company at your next fundraiser.
And if you are raising funds for our men and women in the military, let us know how we can help. Browse your options for specially created, engraved glass ornaments, and explore other pages here at Creative Laser Solutions for Military-related gifts and mementos. Sports balls, hardwood card boxes, picture frames and more provide a practical "canvas" for a commemorative photo, image or slogan/name to mark appreciation for the men and women who serve in the armed forces.
Related: personalized christmas gifts
Quick shipping is available
Our personalized golf gifts are a great way to showcase the sponsors of your golf tournament. To thank your employees on a corporate golf retreat. Or as a fund raiser for charity golf tournaments. Whether you are a golf club that wants customized items to sell in your club house. Or just a player wanting to showcase your passion for a sport you love. Even if you would like to just thank your sponsors for giving your event an opportunity to succeed.
We have items that work great for awards or special achievements in golf tournaments such as "Hole in One" or "Longest Drive"boxes. Our golf gifts can only be limited by your imagination. Let us know how we can help you come up with a great set of awards or favors for your golf tournament or special event.
Take his game to the next level with a personalized golf gift from creativelasering.com We have a wide selection of gifts for the golfer on your list. More popular than ever the personalized golf ball boxes can be customized with names, monograms or logos! Our collection of personalized golf gifts include great home decor items such as custom engraved frames, Barbecue accessories, golf ball boxes and . With our personalized golf gifts, you're sure to break par!
Finally, please take a moment to review the Info page. Scroll up and note our complete commitment to your satisfaction. If you aren't happy with the engraving we've done on your item(s), we'll respond with a prompt replacement. We want to impress you!