Posted by Creative Laser Solutions on 24th Feb 2014
Thank you for your interest in our business! EDIT- Our website has been updated since this guide has been published. If you have any questions on how to order- Please give us a call or email. Thank you
We are here to make your ordering process as painless as possible with a step by step guide.
Step 1. On the left side of your screen you can choose which type of product you want to order.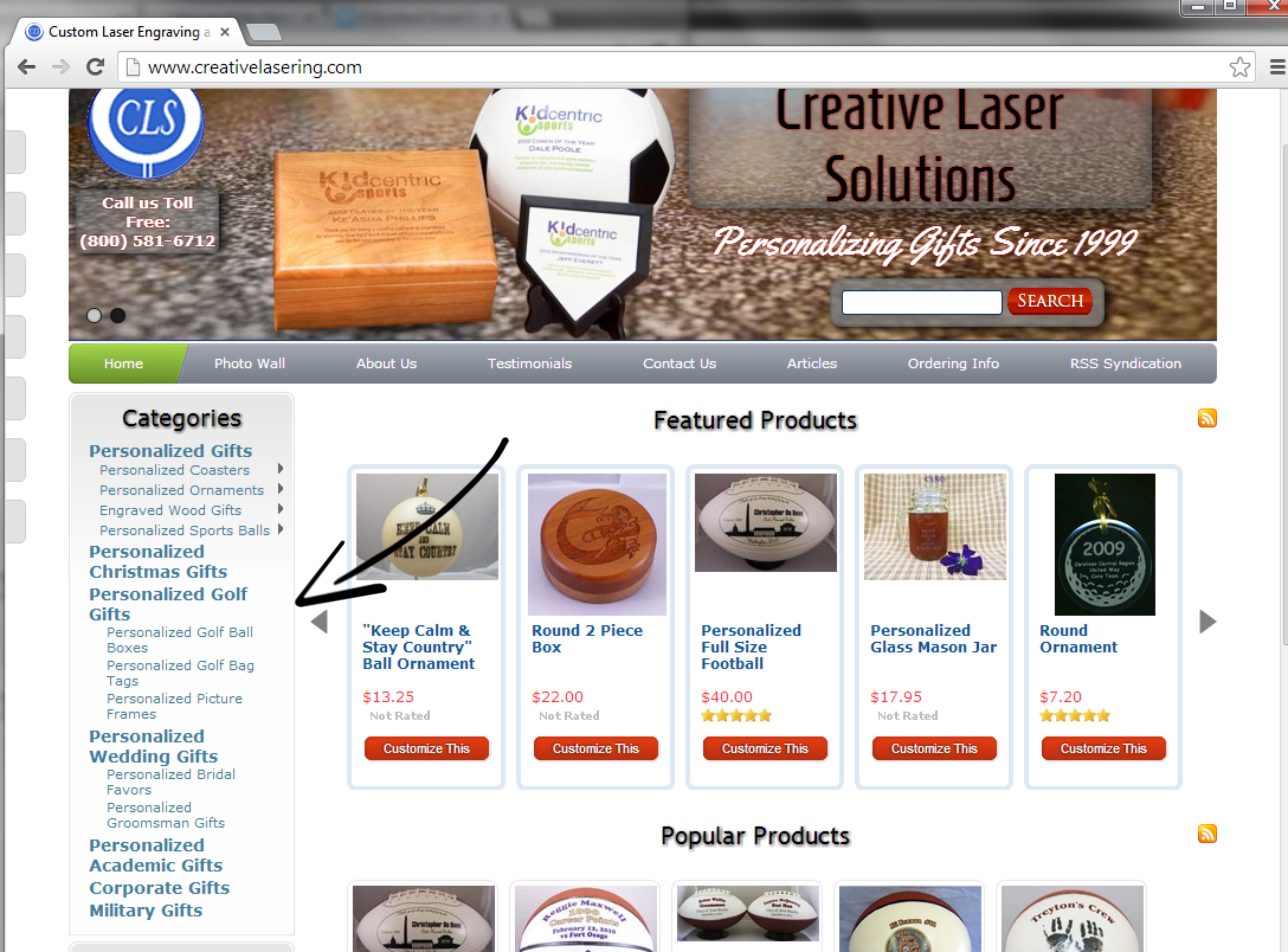 Step 2. (As an example) If you choose a basketball, you will be brought to a screen where you can choose from a selection of basketballs. Click on the type of basketball you would like to order.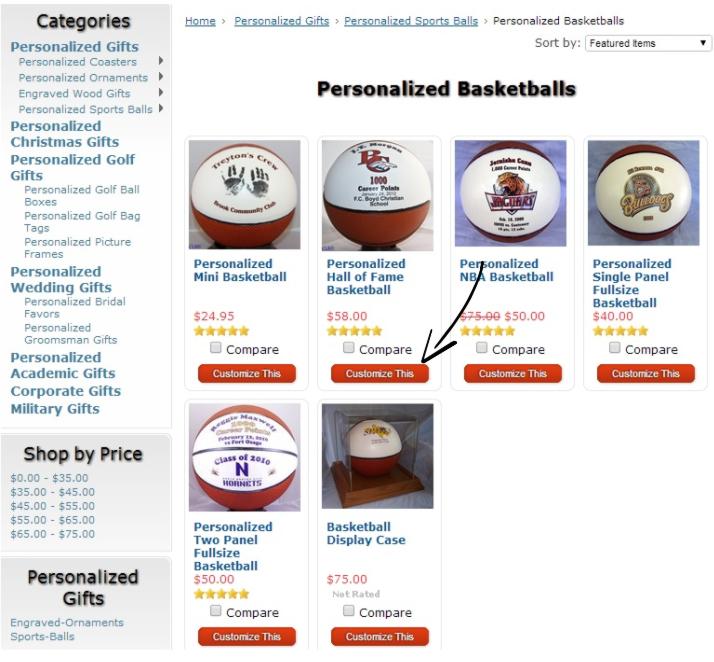 Step 3. Once you have chosen the type of product you want to order, on the right side of the screen you will have several sections of information to fill out. Starting with the date you need your order. You can use the tiny calender box under the "What date do you need it" tabs to let us know the last possible date you need your order in hand by. This way we can be sure we have your order sent to you before your event.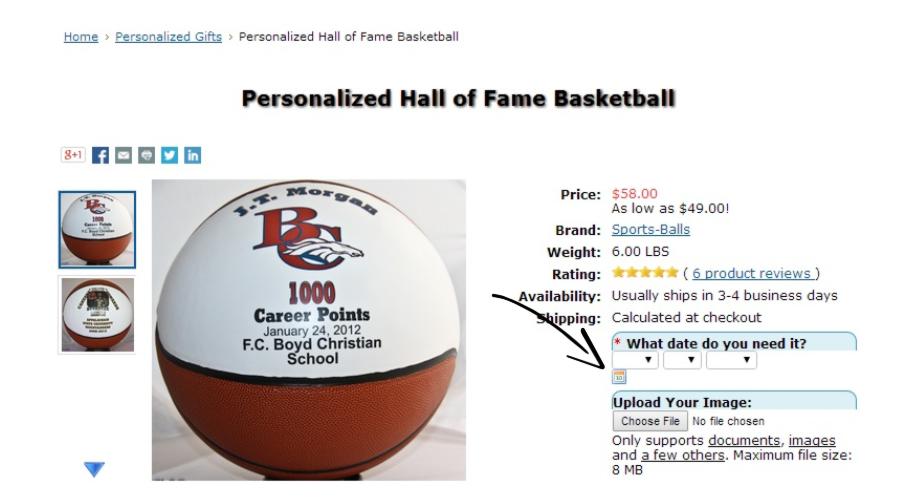 Step 4. Choose the file or files you want to upload for your design. Click on the "Choose file" tab and upload your selected photos. If you have chosen a 2 or 3 panel ball there are 2-3 separate "Choose file" tabs to upload your top middle and bottom panel information to.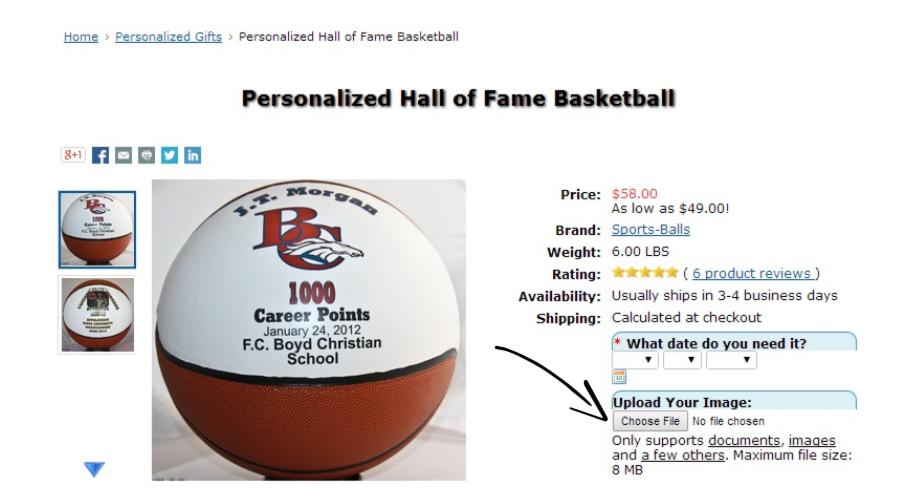 Step 5. Once you have your files uploaded in the "Enter Details" Box, tell us what you would like on your product. Name's, colors, logos, any type of text preference, etc. Then enter in the quantity of the product you would like.
Once you have finished with the design and quantity information click the RED "Add To Cart" tab.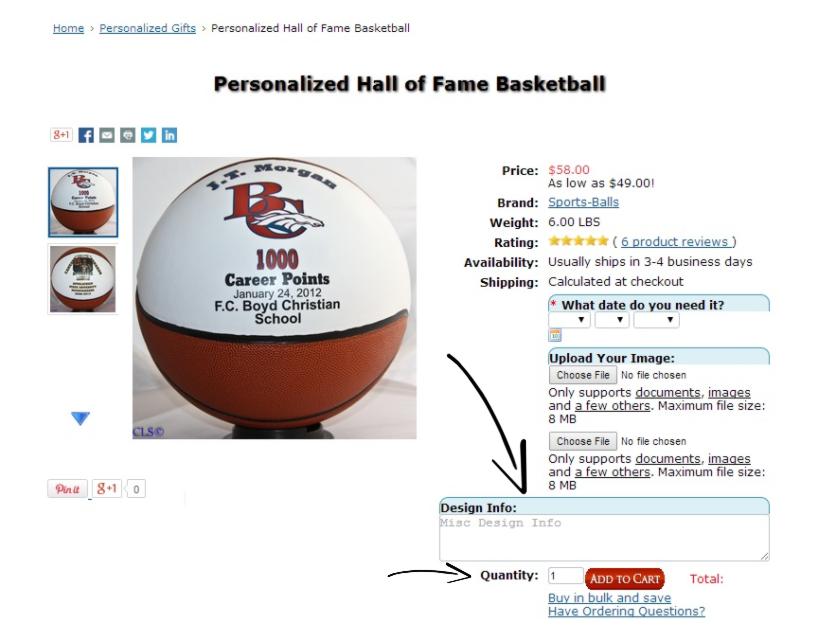 Step 6. You are now at the finishing stages of your ordering process. You now are in the Shopping cart area of our store. Review your need to date, the file link you have uploaded, quantity and type of product you have chosen. Once you have reviewed your design information click the RED "Proceed To Checkout" tab.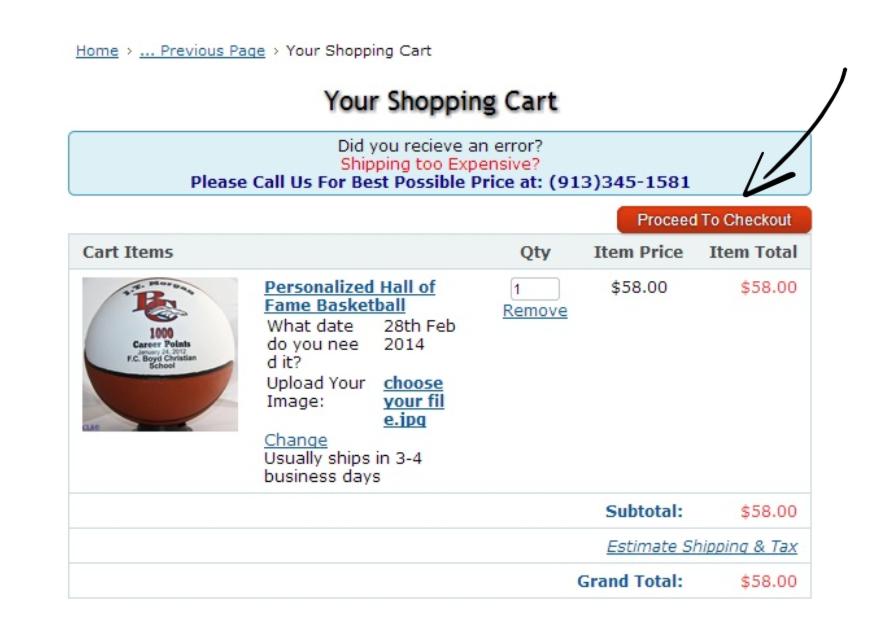 Step 7. The next screen will be your Secure Checkout. You can register as a new customer, login as a returning customer or you can checkout as a guest. We recommend registering as a new customer so if and when you decide to return to our store, you can enter in your login information and it will be a quick and easy checkout process.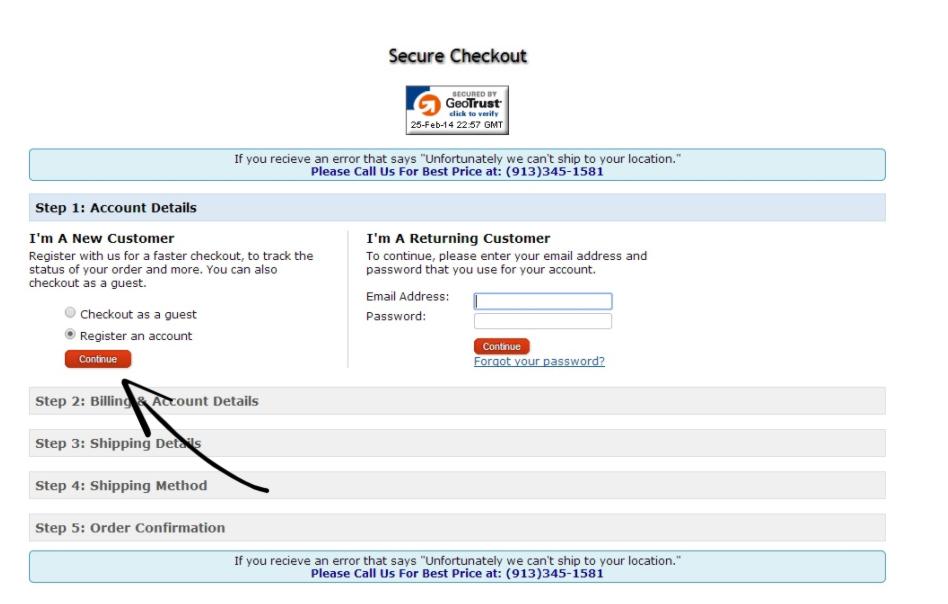 Step 8. This example will be for checking out as a guest.
Fill out the following form with your personal information. Please make sure you review your information for errors. If you have remembered any design information you didn't provide on the design page, you have another chance to add more thoughts or ideas below the zip code box.
Step 9. Choose your shipping method and click the RED "Continue" tab.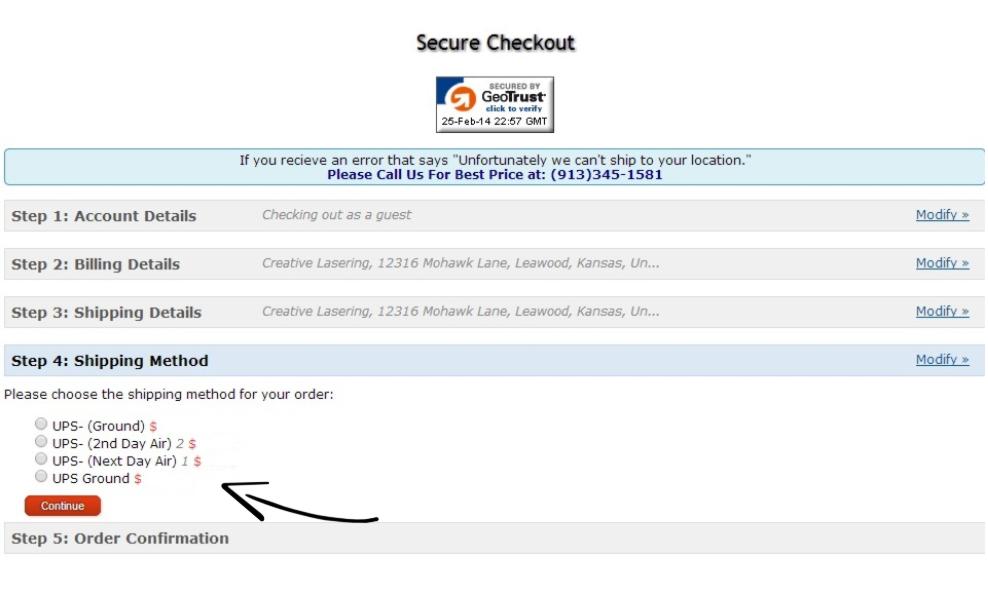 Step 10. Confirm your order information. This is also where you can enter in a Coupon code or Redeem a Gift Certificate. You can also sign up to receive our newsletter and receive special offers! When you have finished reviewing your order and entering in any last minute order instructions click the RED "Continue" tab.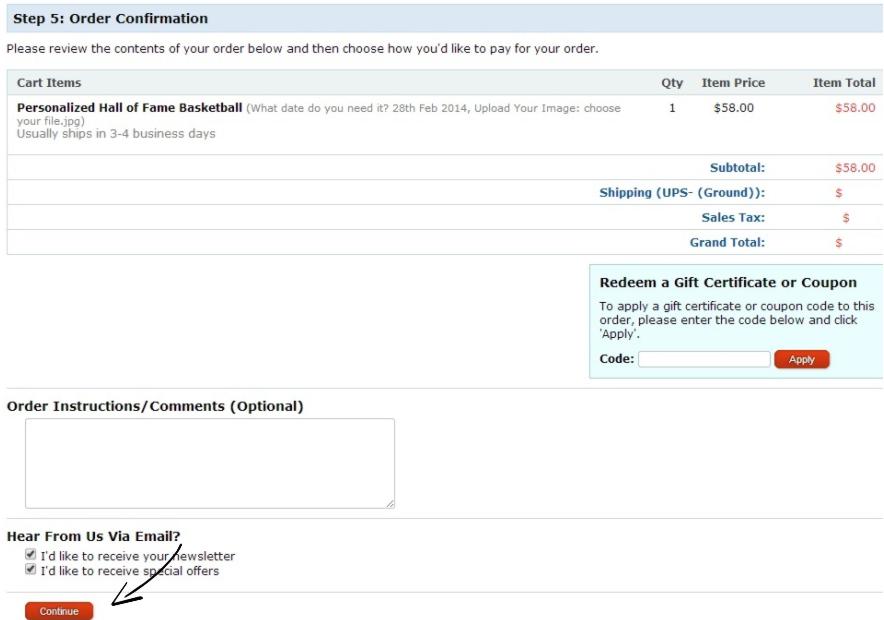 Step 11. The final step.
Enter in your payment method. Please be sure your credit card address matches the credit card you are using or your order will not be processed. Once you have entered in all your credit information and have reviewed it carefully click the RED " Pay for Order" button. You are now finished with the ordering process.

Once we have your order we will send you a simulation to the email you provided of what your product will look like prior to printing. We DO NOT ship any orders until we hear back from you on the approval of your design. You should receive a proof within 24 hours or ordering so please check your email regularly. We ask that you review all text carefully for we print your order based off the approval from you.
We do not accept copyrighted images
If you have any issues during the check out process or have any questions on products, please feel free to email us at sales@creativelasering.com or call us at (800) 581-6712 for assistance. We give a prompt reply.
Thank you for your order, we appreciate your support of small businesses like ours.