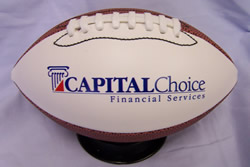 Show team support with these great ideas for sports fundraisers: We personalize footballs, basketballs, baseballs, soccer balls, softballs and volleyballs. See the Sports Ball categories to get a quick idea of your options, then contact us by phone, fax or email with your specs or questions. We field all inquiries and work with any organization to support unique fundraising efforts. Call us to discuss your options and to find out the best way to set up your sports fundraiser.
Big kids and little kids love to see their name and the names of their team members on full or mini sized sports balls, so you can really make a great profit with these. Or order a gross (144) or more emblazoned with the team mascot or special logo. You can even commemorate a big win or just a great season while building financial stability with this truly unique fundraising initiative.
The more you order, the more you'll save on your initial investment, and that's good news for your favorite sports team. Find out about our discounts on large orders by giving us a call or sending an email.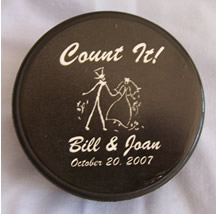 If you want to order just one personalized sports item for your favorite baseball or volleyball enthusiast, we can do that too! See all of your options, dream up something super cool, and place your order. It's easy and someone special will be so pleased.
Basketballs and Weddings
The great thing about Creative Laser Solutions is you get to write the ticket. So if you want us to make a number of footballs for the groomsmen in your upcoming wedding, we can do that, no problem. Send your images, tell us what you want it to say, name your font, order any amount (one or one hundred), and we'll do it. And if the big day is fast approaching and you need your footballs "yesterday," no worries. We can ship in-stock items in 48 hours.